The Lions in the Anren Biennale
in News
posted

October 20, 2021
A legendary creature from Chinese Feng Shui to nowadays
Wang Kaifang's latest work Modern Divine Beast series: the Lions, shown in the 3rd Anren Biennale. With the theme of "variations", the exhibition opened in ancient town Anren, Chengdu on October 15th.
the sculpture changed from the white marble double lions in front of Tiananmen Square, the heart of Beijing. In the traditional style, the male lion steps on the hydrangea, and the female lion presses the young lion – representing the eternal existence of imperial power and generations to come – has been transformed into a symbol of "the supremacy of the earth and the supremacy of life". The two lions roared past with the golden hairs like sharp swords. The culture of the feudal era now is in the era of great changes. This is the advance of will.


Modern Divine Beast series: the Lions
H2.7×2.4×1.2m, Stainless Steel, 24K Gold, 2021


Modern Divine Beast series: the Lions
This series of works by Wang Kaifang are changed from Feng Shui animals in the traditional China. Integrating Eastern and Western cultures, with folklore and years of thinking and creation by artist, it is an auspicious totem passing through time and space and a tribute to the creation and evolution. In the new era, all creation is upgrading. Combined with contemporary science and technology, works are gradually improved and finalized in the form of 3D printing technology, reflecting the progressive spirit of the times, which is not only the will of evolution, but also the will of new mankind.
Culture is the footprint of evolution. Modern Divine Beast serieshas not only culture but also evolution, a tribute to the Creator and a salute to the wisdom of the mysterious universe.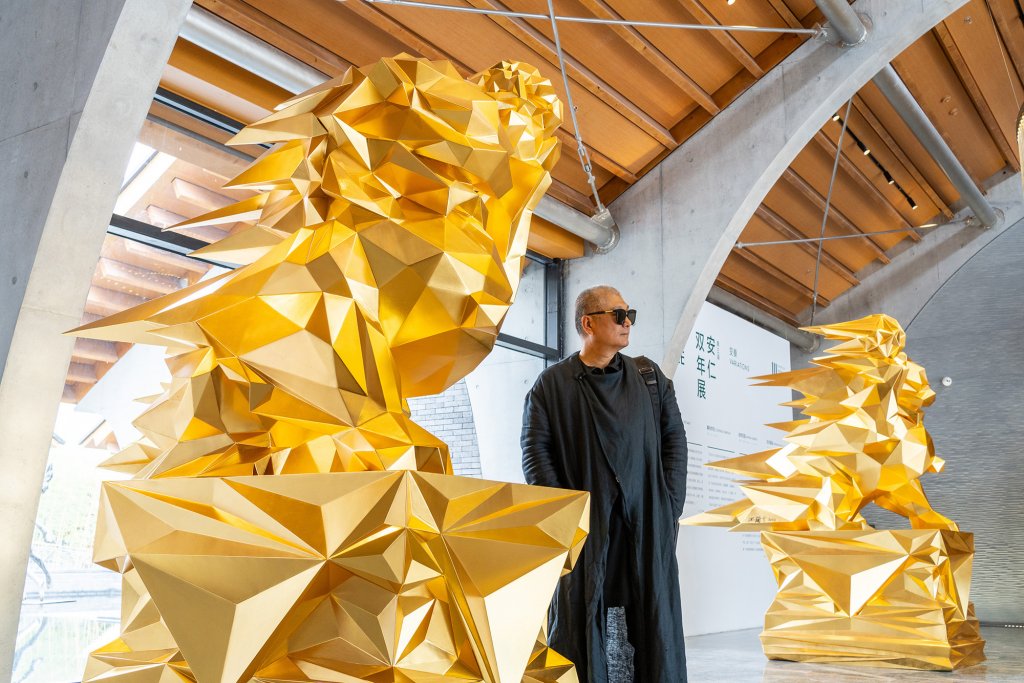 I believe that all living beings are designed by the High Spirits. Human beings have a mission and animals have a place. Divine animals are not only cultural imagination, but also carry the spirit and expectations of the times. I believe that the ultimate creation of art is to create more meaningful new life and change the world in the practice of civilization.
Wang Kaifang
Gold Brick: Perception
Gold Brick: Perception
H2.4×1.2×0.6m, Bronze, 24K Gold, 2012


THE 3RD ANREN BIENNALE
Date: OCT 18, 2021 to MAR, 2022
Location:Dajiangzhimen Cultural Center, Chengdu, China